Use RapidUsertests as a team - Set member roles with the multi-account feature
Do you want to use RapidUsertests in with your whole team or across departments? With our Multi-Account Management you can create teams of multiple accounts, define the rights of the members and share your credits with other users.
The feature is only available for users of RapidUsertests Premium. You can learn how to use it at the end of the article.
The advantages of the multi-account feature:
Central accounting: Credit packages can be activated for several team members, so that you rarely have to obtain budget approvals or go through purchasing processes.
Quality management: With the "admin" rights set, you automatically have access to all tests.
Overview of all users and their roles: Team members can be easily added and removed. A table clearly shows who belongs to the team. Roles can be assigned and customized very easily.
No more shared accounts: Each team member can have their own account and still access all tests relevant to them.
Here you can find out what roles are available and what permissions each role includes:
What are the roles?
Admin
Manages team credit packages i.e. can grant credits to individual team members and access shared credits.
Can manage test access, i.e. invite and remove guests to tests, share tests with the team and automatically has access to all tests.
Can manage teams, i.e. create teams and invite/remove members, and customize team members.
Has read and write access in all tests.
Researcher
Can access credits shared with them and thus spend them on tests.
Can manage test accesses, i.e. invite and remove guests to tests, release tests for teams and automatically has access to all tests of his team.
Has read and write access in all of his team's tests.
Guest account
Guests have read and write access to all tests shared with them.
Guests can NOT create tests themselves within the team and cannot access credits.
In addition to these roles, you can of course continue to share video clips and highlight videos as links via email.
This is how you create a team and assign roles:
As soon as we have activated the team feature for your account, you will receive extended functions under "Teams".
Under "Member management" you can now invite team members to your team using their email address. This even works with employees who do not yet have an account with us!
You can also easily define which rights your members should have and who should have access to your credits. You can also create multiple teams.

How to book tests with the account holder's credits
At the end of the test booking you can choose which credits you want to book the test with:
If you want to book team credits, then select the email address of the main account in the "Billing on the following account" field. Additionally, you can share your test directly with one or more teams.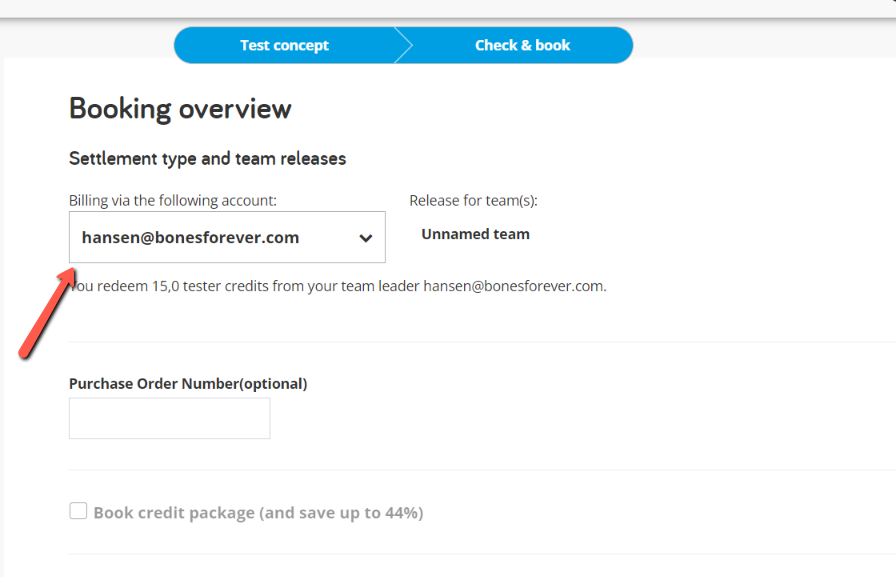 Here's what you need to know:
For now, the multi-account feature is only available to teams that have tester credits.
Access to multiple credit packages: If you already have credits yourself and get additional credits released by a test leader, you can select which credits you want to use when booking.
Tests on invoices still possible: Even if you have access to a credit package, you can still book tests on invoices if this is easier for you for accounting reasons.
When a member leaves the team: If someone leaves a team, test releases of that member's tests will continue to exist, so no data will be lost. If a test leader who owns credits leaves, they should be shared with other team members, and the account should not be closed until the credits have been used up.
Withdrawing given access: The access can be revoked at any time by the person conducting the test.
Attention!
Team and role management is only available for RapidUsertests Premium users.

RapidUsertests Premium is our new all-in-one tool for UX testing and research:
Better collaboration through UX repository, transcription and translation of videos.
More efficient research through methods like adhoc testing, 5-minute testing, and in-house testing.
Deeper insights with the UX Lab in the cloud.
More impact in the company, e.g. through highlight videos and team trainings
Are you interested in a free and non-binding demo? Make an appointment here.