This is how you can narrow down your target group
An important step in creating a usability test is to narrow down the target group, because you will achieve the most meaningful results with exactly your target group.

However, always consider which requirements will actually bring you to your goal in the usability test and which restrictions are unnecessary.

If you narrow down your target group too much, recruitment will take longer or be more expensive.

Therefore, always ask yourself these questions:
What do the test subjects need to bring to the table so that they can relate well to the test scenario?
Is this characteristic really necessary for the test persons to be able to empathize well with the test scenario?
When booking a test, we need the following information about your target group:
Age
When booking the test, you can specify an age range and we will only invite testers from this age range. If you want to make sure that the age is distributed evenly, we recommend that you create several target groups directly when creating the test and define a delimited age range for each target group.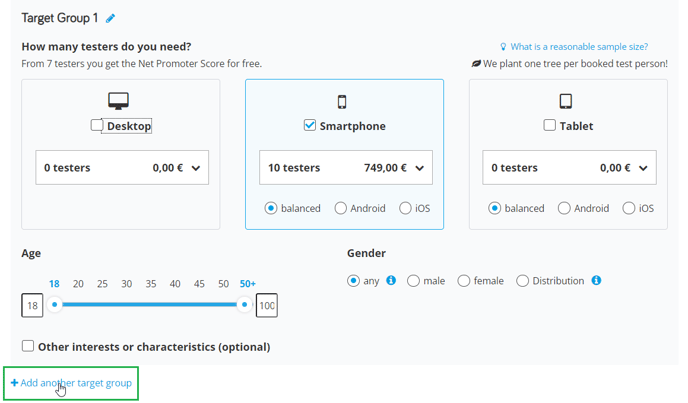 Gender
You can select a gender or specify a gender distribution (e.g. 70% female and 30% male). If you select "any", it may happen that only testers of one gender participate.
Interests and characteristics
If you want the testers to meet certain criteria, let us know in the field "other interests or characteristics". Write the requirements as if you were talking directly to the tester. "You are interested in / own / have ..."

Requirements we can filter by are job situation, industry, hobbies, car or homeownership, household income, marital status, children, language skills.... However, we cannot always guarantee that we will find enough appropriate participants. If you are not sure, send a request via chat or email.
Comparison of different target groups
If you want to compare the behavior of different target groups for a test, create several target groups directly when creating the test.

For example, if you want to compare customers with non-customers, create a target group with the requirement "You are a customer of company xy" and a target group with the requirement "You are not a customer of company xy".
Screener
If it is particularly important for your study to recruit the right participants, we can set up a screener before the test. Only when the testers have completed this questionnaire positively, they will be included in the test.
Screeners are priced as follows:
Short screener with 1-3 questions: €100 (3 credits)
Extensive screener, you provide the questions yourself: €200 (6 credits)
We write the questions of the screener for you: €300 (9 credits)
If you want to book the screening, mention it in the notes to the order and send your questions to info@rapidusertests.com if necessary.

NOTE: The duration of the recruitment will increase with this approach. The stricter the criteria of your testers are, the more time you need to schedule for the test.
Tests with your own or external tester panels
You can also conduct the tests with your own testers or commission an external panel. You can find out how to do this here. (Currently only possible for desktop tests).
Copying of tests
If you need several variants of a test, e.g. to cover several age groups, we recommend the following procedure:
Create a complete test, including all the questions.
Then simply copy this test in your dashboard:




Adjust the target group in the booking form and make any other changes if necessary.
Ask your test administrator to merge the test variants for you to be able to evaluate them better.
Can we cover your target group?
Fitness trainers, dog owners, IT employees... we are often asked which target groups we can cover.

In principle, we can recruit all target groups. Whether we can cover them with our own panel depends on the combination of all requirements (age structure, gender distribution, other interests or characteristics).

However, by cooperating with reliable recruitment specialists, we can also cover very specific target groups, such as doctors or traders.

By the way: Only at your explicit request or in consultation with you, we will invite users who have already worked for you. Otherwise, only users who have not yet tested for you will participate.
TIP: Most usability problems are also found by testers who do not fit perfectly into the target group. The only prerequisite is that they can easily empathize with the scenario. For example, if the topic is a house renovation, the testers should own a house, but do not necessarily have to be planning a renovation right now. However, if it is about wording for a physician tool, for example, practicing physicians should also test this tool. For interviews, too, the test subjects should match your target group as closely as possible.
Learn more about the testers
Do you want to know which product the tester has already bought, where he usually shops, which insurance he has, even if these characteristics are not relevant for the target group refinement?

With RapidUsertest only age, gender and pseudonym are transmitted automatically. If you want to find out more about the testers, use a question in the post-survey. This way you have the information of all your testers at a glance.